Getting Ready For Your Yacht Transport
The safety of everyone on the road and your yacht must be yacht transporters' first consideration. The word Yacht is a term used to describe a large or oversize boat. When we hear the word "Yacht", it brings to mind images of a very large boat.
Some are fit for a king, others are working vessels like sport fishers, and some are just for family fun. In our world of yacht transportation, the word generally describes a boat that is larger than 14 feet wide, 14 feet tall and is around or over 40,000 pounds in weight.
Our Yacht shipping specialists are very knowledgeable and have years of experience in the planning of moving oversize boats. We have transported boats all across the country and around the world. We have moved vessels of all sizes, shapes, makes and models. Some of the brands of boats we have moved are Carver, Mainship, SeaRay, Silverton, Nordic Tug, Ocean Alexander, Hunter, Catalina, Beneteau, Swan, and Oyster just to name a few.
Feel free to contact us with any questions you may have, or for a free quote on your upcoming Yacht Transportation needs.
Our Boat Relocation Specialists Handle All The Planning For You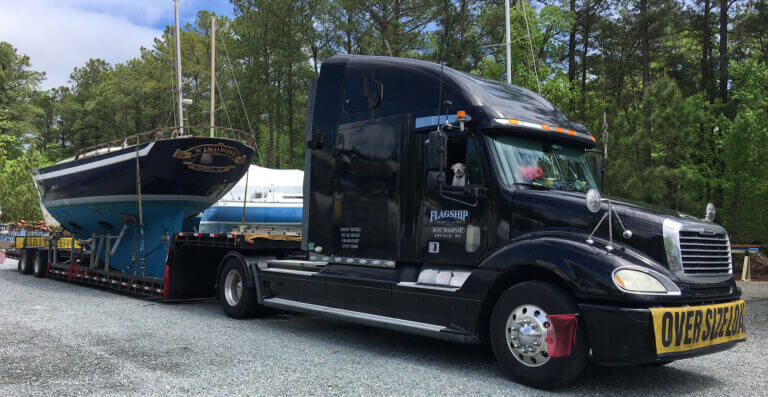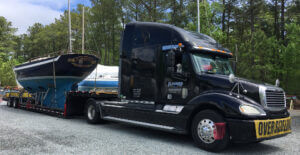 Extra care must be taken in determining your yachts route to its new destination. A great effort is made to give you an accurate and timely quote for your Yacht Transport. We include all permits, route surveys, pole cars, and police escorts.
We do not charge a fuel surcharge. We feel fuel surcharges are for companies that do not manage their trucks properly or know how to quote a boat relocation correctly.
There are times when a state will put additional restrictions on their permits. These are usually due to road construction and/or the time of year move is scheduled for. Because we are not aware of this ahead of time, they may not be included in your quote.  You will find a quick overview of the most common rules and regulations, listed by state, in the menu found on the right of this page.
Moving An Oversize Power Or Sailboat Requires Extra Planning and Compliance
When transporting sailboats and powerboats that are oversize, some of the regulations we have to comply with are greater than when moving a smaller vessel. We are always required to use pilot cars and pole cars when the vessel exceeds the state or city size regulations.
There is also the need to meet any curfews that are given to us, as far as when and where we can travel while transporting an oversize Yacht. These additional requirements are set by the states and cities that are issuing the permits, your yacht transportation company must be aware of this.
Over-height Yacht Transport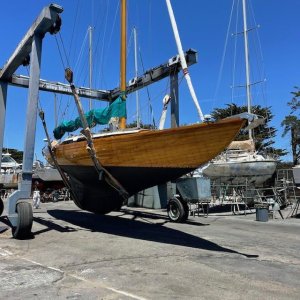 There are times when it is necessary to remove the flybridge or radar arch to reduce the overall height when preparing for your Yacht Transportation. Overall height is one of our major concerns when transporting a powerboat. Reducing the height of the boat when loaded on the transport trailer not only makes it safer but can also greatly lower the costs of the transport. You would be amazed at what the difference a few inches in height can do in reducing the overall costs of your Yacht Shipping.
Some flybridges are removed due to excessive height and must be transported on the boat, on the transport trailer, and in some cases with a second truck and trailer. We hope this page has been helpful to you.
There is so much more to moving an oversize boat than just loading her up and hitting the road. We invite you to contact us directly with any questions or concerns you may have regarding your Yacht transportation service needs. We want to be your Yacht Transport Company and are always happy to help. Let us give you a free quote today!
International yacht shipping requires more time and knowledge of international shipping. Yachts must be properly prepped and height needs to be reduced in many cases. A yacht transport company needs to assist with all aspects of moving your yacht. A flexible shipping schedule will aid your yacht transport service in getting you the best price.