Boat Transport Preparation Guide – General Overview
There are many items that will need to be taken care of before you can safely Transport a Boat. Most of the preparation needed can be done by you or your agent. The marina and boat mover you choose can be a great resource for information. Most of the details that need to be addressed require very little technical skill or experience. If you have more time than money, here is a great opportunity to save a bundle, and get to know your vessel a little better at the same time.
Dimensions are of absolute importance when requesting a quote to have your boat transported. To measure your boat, follow the guidelines below. Remember, it is very important to be accurate with your measurements.
Put your motors or out drives in the raised position. Measure the overall length of your vessel, remembering to include out drives or motors, bow pulpits, swim platforms, and motor brackets.
To measure the height of your boat, measure from the highest part of the vessel, which is non removable, to the bottom of the keel or the lowest point of the vessel's props and rudders.
To measure the beam of the boat, you measure the widest portion of the vessel and include anything that is attached to it.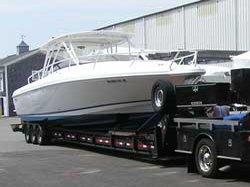 Picking The Right Marina For Your Boat Transport
Is there a forklift or travel lift for loading and unloading your boat before and after being moved to its new destination?
Although we do not recommend shrink-wrap, you may want to know if they can shrink-wrap your boat prior to transporting it.
Is there a service bay that can disassemble and reassemble the fly bridge or radar arch?
Is the marina or boat yard willing to assist with the prep work on the vessel and what are their charges in order to have it ready for transport?
How To Prepare Your Vessel For Safe Transport
Since safety is the most important part of transporting your vessel safely, we recommend you follow our guidelines by having a responsible boat yard do the preparation, or overseeing the preparation is done properly yourself.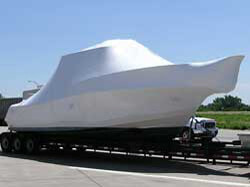 If damage occurs due to loading or improper preparation by the shipper, the transporter is not responsible.
Please ensure your boat is properly prepared for transport. Boats not properly prepared will be shipped in "as is condition" and the boat mover will not be responsible for damages. As a Boat Transport Company, we would rather not transport a vessel in this manner. It is not safe for the boat, the driver and potentially for others on the highway.
In most states, 13'6" is the maximum legal height to transport a boat. However, boats of larger sizes (yachts) do travel on the highway. This requires special preparations. As a yacht owner you need to be aware of whether your marina is roomy enough to get your yacht and its transport rig in and out of its yard safely.
When choosing a marina to transport your vessel from, please select one that has a minimum of 14' clearance overhead with no branches or wires that interfere with travel. Your Boat haulers will also contact the marina for special instructions for getting in and out of the marina or boat yard.
More clearance is required for larger boats, such as sailboat transport and yacht transport, as the load is usually higher.
Prior To Transport Checklist
Secure all loose gear in proper storage, as the Boat Movers will not accept responsibility for improperly stored gear. Make sure all cabinets and the cabin is locked and "you" keep the key. Please note all tanks must be empty for transport, including water and fuel, and remove the hull's drain plugs. The bilge needs to be water free during transport, and during winter months, all fluids should be drained from water systems, air conditioners, pumps, etc.
Remove anchors from the deck, disconnect and secure the batteries.
A coat of linseed oil will prevent your wooden boat from drying out. This preparation may cause a bit more accumulation of dirt from the highway.
Canvas Covers / Shrink Wrap
During transport, canvas covers must be removed as this will prevent them from tearing or flying away. The transporter will not be responsible for damages, if these covers are not removed. We will ship shrink-wrapped boats, but please be aware that during transport it may tear and fly off. Additional shrink-wrap tape is carried and every reasonable effort will be made to make repairs to the shrink-wrap. If it becomes un-repairable, it will be removed to prevent damage from occurring to the vessel. The boat movers will not assume responsibility for damages that occur under these conditions and you may be charged additional fees for the time spent repairing and/or removing the shrink-wrap.
Cradles / Trailers
Boat Haulers will have their own cradling system they design to fit your vessel. The boat mover will not accept responsibility for damages if your cradle breaks during transport and really does not want to move your boat on its own cradle. If it is agreed to transport your boat on its cradle, you are advised to carefully inspect it. Check for loose bolts and weaknesses that could cause it to breakdown. If you ship your boat on a trailer you own, the transporter will not accept responsibility for roller or frame damage, trailer break apart or anything else that occurs with your personally owned trailer that may cause damage to your vessel.
Dinghies
Please remove your dinghies from their davits, and if you decided to leave them aboard during transport, ensure that they are well protected and padded. If the superstructure has to be removed, ensure that it is protected and padded as well.
Hatches
The transporter cannot be responsible if damage occurs to the boat due to hatches blowing off or water leakage during transit. Your boat will sit in a different position on the trailer than it does in the water. You will need to leak-proof, tape down, and secure, your hatches from the outside.
Windows / Windshields
All cabin windows need to be latched tight and taped from the outside. Protruding flying bridge windshields and Plexiglas needs to be removed, packaged in a cargo blanket, and stored below. The transporter will not be responsible for damages if they are not removed and stored properly.
Please, read either the powerboat transport, yacht transport, sailboat transport or the small boat transport page depending on your specific vessel. Boat haulers can move your vessel safely and economically with the proper preparations to haul a boat before it goes on the highway.